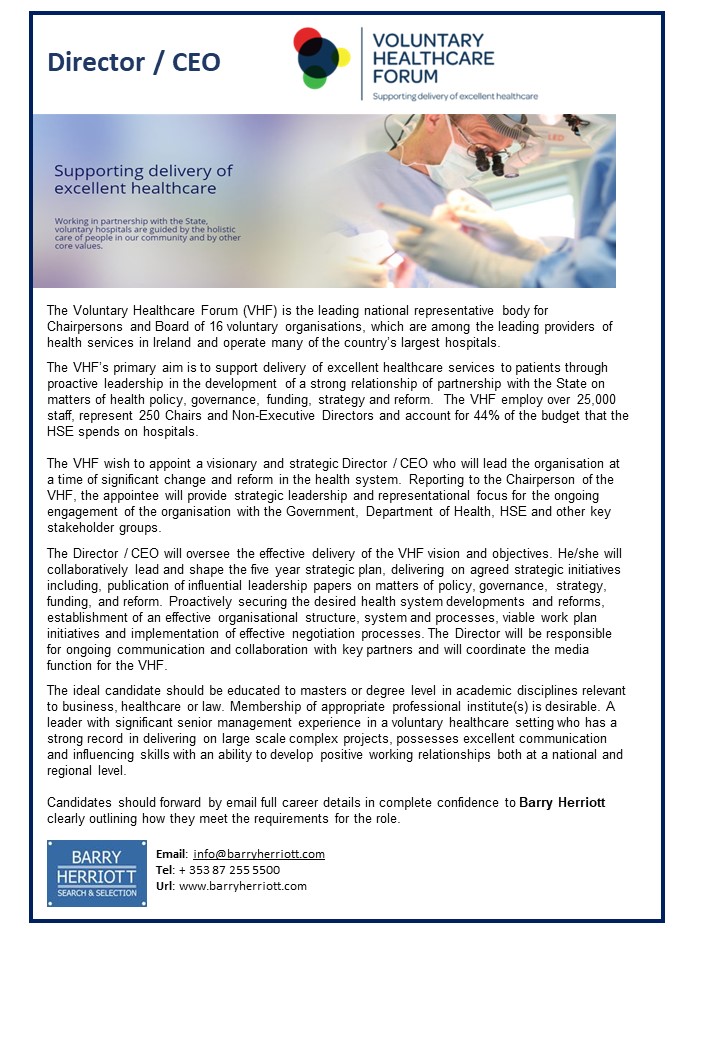 The Voluntary Healthcare Forum (VHF) is the leading national representative body for Chairpersons and Board of 16 voluntary organisations, which are among the leading providers of health services in Ireland and operate many of the country's largest hospitals.
The VHF's primary aim is to support delivery of excellent healthcare services to patients through proactive leadership in the development of a strong relationship of partnership with the State on matters of health policy, governance, funding, strategy and reform. The VHF employ over 25,000 staff, represent 250 Chairs and Non-Executive Directors and account for 44% of the budget that the HSE spends on hospitals.
The VHF wish to appoint a visionary and strategic Director / CEO who will lead the organisation at a time of significant change and reform in the health system. Reporting to the Chairperson of the VHF, the appointee will provide strategic leadership and representational focus for the ongoing engagement of the organisation with the Government, Department of Health, HSE and other key stakeholder groups.
The Director / CEO will oversee the effective delivery of the VHF vision and objectives. He/she will collaboratively lead and shape the five year strategic plan, delivering on agreed strategic initiatives including, publication of influential leadership papers on matters of policy, governance, strategy, funding, and reform. Proactively securing the desired health system developments and reforms, establishment of an effective organisational structure, system and processes, viable work plan initiatives and implementation of effective negotiation processes. The Director will be responsible for ongoing communication and collaboration with key partners and will coordinate the media function for the VHF.
The ideal candidate should be educated to masters or degree level in academic disciplines relevant to business, healthcare or law. Membership of appropriate professional institute(s) is desirable. A leader with significant senior management experience in a voluntary healthcare setting who has a strong record in delivering on large scale complex projects, possesses excellent communication and influencing skills with an ability to develop positive working relationships both at a national and regional level.
Candidates should forward by email full career details in complete confidence to Barry Herriott clearly outlining how they meet the requirements for the role.